The ultimate wellness gift guide is a round up of gift ideas for that wellness junkie or healthy living enthusiasts in your life. Everything that they'll want or need to live their best life.
This has been me. I have been obsessed with finding and using all things to boost my mental and physical well-being. It can be anything from trying to workouts to skin care routine to staying hydrated.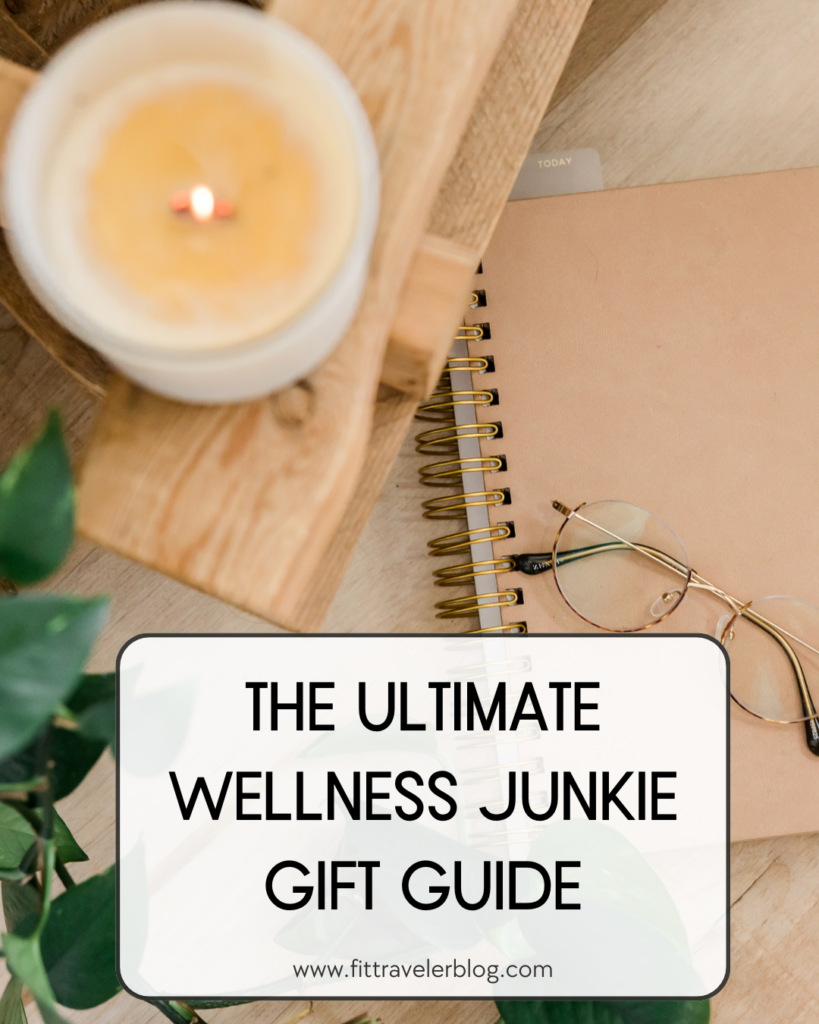 Satin pillowcase & eye mask – I love my satin pillowcase, but it did honestly take some time to get used to. Satin pillowcase is great for both your hair and skin care. If you have acne a satin pillowcase will help that.
Journal & Pens – Journalling is one of the best things you can do for yourself. I love to journal because I am able to write out my thoughts and emotions. It can help with increase your self esteem and self confidence.
Candle or Wax Melter – These are great to set the mood for anything. I have a dual candle/wax melter. The wax is in a bowl on top that I can take off if I want to use a candle. I have wax melts in a variety of scents ranging from bubble gum to cotton clean.
The 5 Minute Journal –
Massage Envy Gift Certificate – Who doesn't like to get a massage and be pampered. Plus there are locations everywhere so whoever you gift it to can use.
Blue Light Blocker Glasses – These are from Amazon and my favorite because I got 3 different ones. I stare at a computer all day for work then at night time working on my writing.
Reusable Straws – These are a great stocking stuffer idea. There are so many options between metal or silicone.
Reusable Tumbler – There are so many options on tumblers. I am personally on the Stanley bandwagon but I also love Hydroflask. Plus you can never have to many cups, right?
Foam Roller – I have a small travel roller that I take everywhere. It's perfect after a day of driving or just to have that doesn't take up a lot of space.
Candle – Who doesn't love candles. They are absolutely the best. One of my favorite candle places is homesick. They have the best candles.
Accuputure Mat – I have had one for several years and I can't live without it. It does take some time to get use to but after your body adapts it's wonderful. I can't even explain how relaxing it is.
Skin Care Tool – Gua Sha, Ice Roller, Eye Globes,
Fuzzy Slippers – I wear house slippers every day. The fuzzier the better.
Self Help Books – There are so many out there, BUT my all time favorite is 101 Essays That Will Change The Way You Think by Brianne Weist. I have read a lot of her books and they have changed the way I think about myself and relationships I have.
Anything on this list your friend who loves anything wellness, self care, and improving their life will love you forever. The Ultimate Wellness Gift Guide has something in every price range and budget. If you need help finding anything or need recommendations feel free to email me or message me on social media. I love helping people find the best gifts for their love ones, and giving gifts in my love language.