There are several ways to notice that you are losing weight besides the number on the scale. One of my favorite ways to notice my body changing is by taking measurements. But there are a variety of ways to figure out you are losing weight that has nothing to do with numbers. I do this twice a month usually on the 2nd and 4th weekends. When I do my measurements, it's done first thing in the morning. I also wear the same thing each time so I can get accurate numbers. If you stress by numbers, I would suggest finding another way because this can trigger you and affect your life in other ways. Which is what we are trying not to do with working and trying to improve our lives.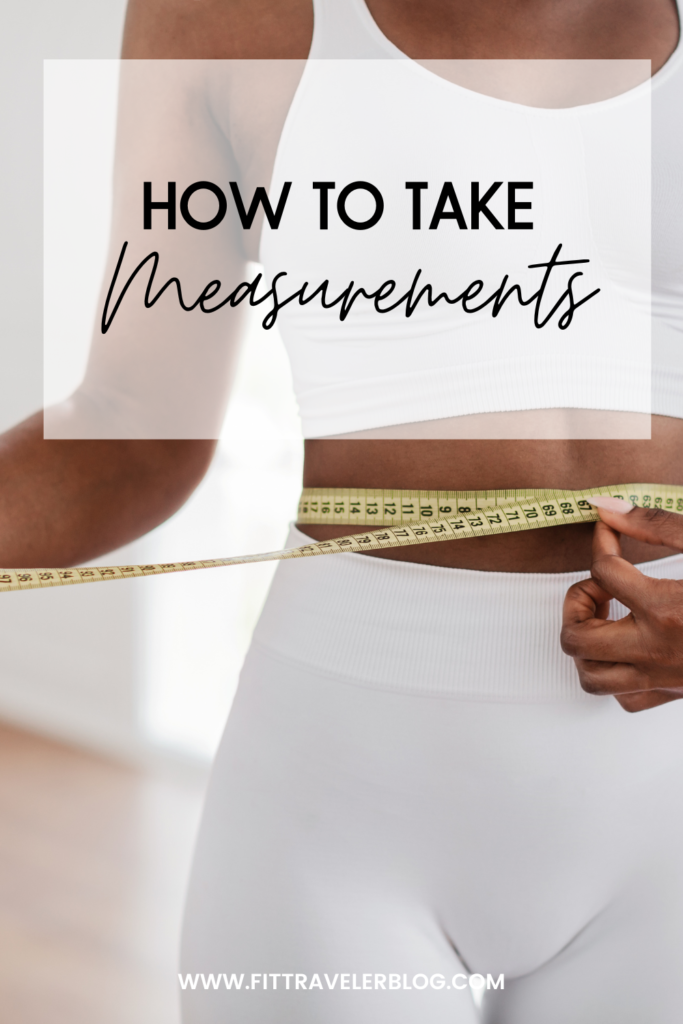 Taking measurements can be difficult. I know when I first started taking my own measurements the numbers would be all over the place. Typically it was my own fault because I wouldn't measure the same spot or even the same body part. Measurements are one of my favorite ways to see results, but I am also a numbers person. Being a numbers person has its ups and downs. The up is you can see the change – good or bad. The numbers don't lie. The bad (for me) is I can get so consumed with the numbers. Another reason I love measurements is that it can be done anywhere. All you need is a tape measure along with a pen and paper. I use google sheets to take my numbers. But find what works for you.
How to Take Measurements
These are the tips and tricks that I have learned over the past years that have helped me.
Wear the same thing every time. Somehow I can remember when bra and shorts that I wear each time. Another option would be to take a picture. The reason that you want to wear the same thing every time is because different fabrics could be bulkier or tighter than others. That could affect your numbers.
Pick a side to measure. I actually never thought about this until I was getting measured by my trainer in Iowa. I chose my left side because I am right-side dominant. I wanted to track my weaker side. It's honestly just what you prefer.
What do you want to measure? There are so many printables out there. For me, I measure my arm, bust, hips, waist, and thigh. Some people measure their neck and calf, but that data isn't important to me right now.
Then this is how I take measurements:
Start with my LEFT arm. I take the tape measure from the bony part of my shoulder down to my elbow. Take that measurement and divide it in half. That's where I take the measurement for the arm.
Bust – The easiest way I have found is finding the fullest part of the chest. Some people round to the nearest whole number. I don't do that, I get the exact number. It's preference though.
Waist – The waist and hips can be tough to measure at the exact spot each time. There are 2 best ways that I have found to get the best spot for the waist. The first one is to bend to the side and find the crease. Place the tape on the crease to get the measurement. The other would be measured around the belly button.
Hips – The hips are the widest part of the hips and glute. I feel like this one has the most part error.
Thigh – I measure the same way as I do my arms. I find my hip bone and measure down the side of my leg to the knee bone. Then divide that number in half to get where to measure.
Calf – I measure from the knee to the ankle bump. (I don't know what it's really called but you know what I mean) Then take that number, divide it in half, and measure.
Overall I would wait a few months before making changes in what you are doing or projecting any numbers. Trust me it's easier said than done because I am a numbers person, and I want to track everything. Here are 20 other ways to get fit.