This is a pretty tough post because I haven't been feeling very happy lately. I don't mean just happy and smiley. I mean it's been a straight struggle to get out of bed. It's been tough for me just to be content with who I am and comfortable in my own body. I didn't know what to do, so I literally googled how to be happier right now. These are all things you can do to be happier right now that don't depend on others or time.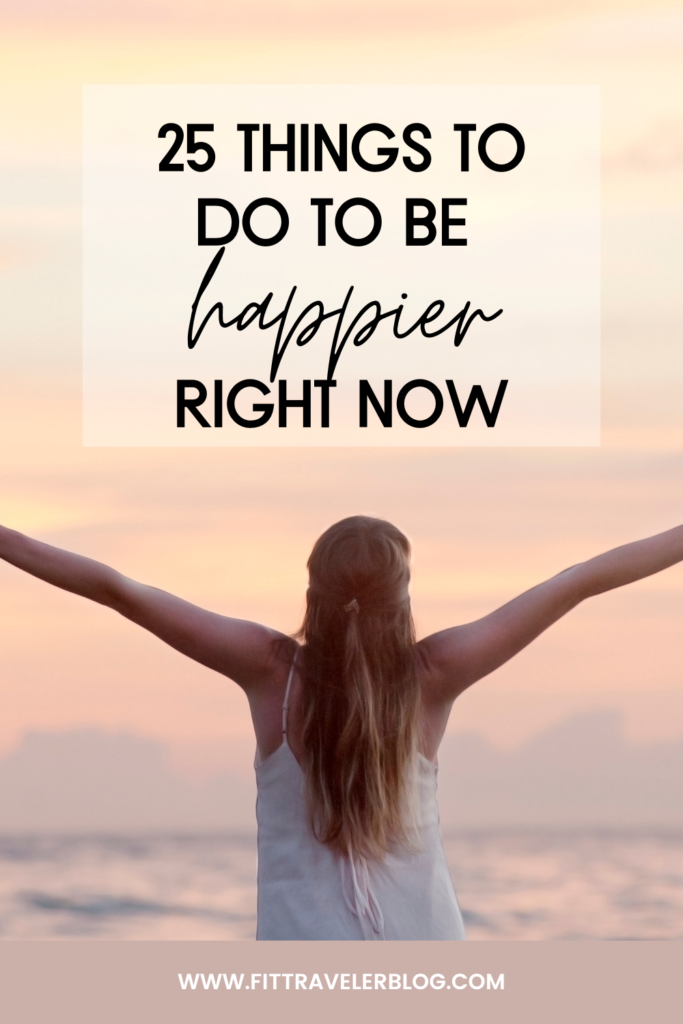 I have struggled with mental health for longer than I care to admit. I have internalized a lot because I didn't know how to always express it. For someone who talks a lot it can be very frustrating. I have had anxiety and depression my whole life. Then add my people-pleasing tendency on top of being genuinely happy can be a struggle. Lately, my anxiety and panic attacks have been so bad it hurt to leave my bed. Everything in my body was in so much pain. There have been times my chest is so tight it hurts to breathe.
Right now, I am in a season of healing. I am working on discovering what makes me happy. It has been a journey through a lot of reading, journaling, medication, and talking with a therapist. I have had to focus on being happy within myself. Focusing on what brings me joy and who I want to be. Having control of my mindset is a daily struggle. Remember to take everyday for what it is and not what you want it to be, and everyday is going to be different. It's what makes us human.
Be Happier Right Now
Here's a list of 25 things I have done to improve my mindset and make me happier right now. Most of these things you can do right now to stay happy and healthy: (in no particular order)
Say NO to things that don't bring you joy. This is so tough for me because I want to say yes to everyone! I am learning to say no to people and believe that it's not personal. one tip that has worked for me is before I say yes, I tell people that I have to check my schedule. This gives me time to really think if I want to do something or if I am doing it for other reasons.
Delete apps off your phone you no longer use. I know for me personally seeing all the apps on my phone can cause anxiety. I recently deleted 13 apps on my phone. Some of the apps I didn't even know were still on my phone. I also recently forgot my password on my phone and I had to completely reset the phone including my Icloud email address which also means I lost all my apps. Usually, I would completely stress out about this but I took it as a sign I needed to reboot my life. I wasn't doing it so the universe did it herself.
Reach out to someone you haven't talked to you in a while. (Even if it is a Facebook message) I did the other day. I can be the worst at keeping in touch with people. They message me and I respond in my head but never actually respond. I did this to one person who I ABSOLUTELY adore. I reached out to catch up and I'm glad I did. One of my goals is to connect with people more and I have a goal to connect with one person each week on social media. I have a google sheet with who it is each week and to keep in touch with them after the week.
Journal. This is my hands down favorite thing to do. I love brand-new journals with brand-new pens. Journaling has always been therapeutic for me because it's a chance to get everything out of my head. Also, journalling helps me to see things from a different perspective as I am writing things down, I am calm and not so emotional. I am able to see it from others' perspectives. If it's not out of my head I tend to replay or overthink situations. There have been times when I journal I have written things that I didn't even know I was feeling. I also wrote things that I have never really said out loud.
Declutter each room. I do this quite a lot probably more than most people. I go through and get rid of things that I haven't used. My favorite tip is on your clothes. If you aren't ready to get rid of some clothes, turn the hanger around. If you don't wear it by the end of the season get rid of it. If you don't want to get rid of it, can you repurpose it? For example, if you have a bunch of shirts you don't want to get rid of but don't wear. Then you can make a memory quilt. Or a pillow because you can never have too many pillows.
Meditate. This is probably the toughest thing on the list. Sitting in silence and focusing on your breath. So many thoughts and emotions can come up. Some feelings are ones that you don't want to deal with or haven't gotten over. I would like to be better at meditating.
Unfriend. Mute. Block. Unfollow people that don't inspire you anymore. Remember you are the sum of your 5 closest friends.
Reorganize your home. I do this when I declutter things. I often organize things. I don't like clutter and things not being in their place.
Go for a walk. Get outside and enjoy nature. I know sometimes that can even feel like a lot so walking to the end of the driveway can be considered outside. Get that fresh air. If you want to go on a long walk, find a trail using the AllTrails app.
Create Boundaries. This is one of the toughest things on the list for me because I am a people pleaser and want everyone to like me. If I know that someone isn't a fan of me, it makes me want to get them to like me even more. Which is impossible. But I am working really hard on creating boundaries in my life. It has been some tough conversations because I have had to eliminate contact with some family.
Learn a new skill. I learned to crochet at one of the toughest points in my life. Learning to crochet taught me to take my mind off things and focus on the task at hand. I now crochet during any negative emotion to bring myself back to the present.
Compliment someone. It feels so good to compliment someone for both parties.
Binge-watch your favorite show (or a new show). For me, I prefer to watch shows I have seen several times. My personal favorites are Law & Order, The Office, and Chicago PD. I'm currently watching Blue Bloods.
Plan your next trip.
Do a hobby you haven't done in a while (For me, it's crochet)
Gratitude Journal. Make a list of things you are grateful for. This is tough for me because I overthink things. I try to get too specific on things that I am grateful for instead of focusing on moments.
Take a nap. Personally, I have to be careful with this because I can sleep too much.
Dance Party (Turn on Spotify and dance the afternoon away)
Go workout or try a new group fitness class.
Take a social media break. I have a friend who takes a social media break every April. I try and do one every 6 months if not sooner. I am actually thinking of taking a social media detox because I am noticing I am checking it too much. If you don't want to do a detox, at least turnoff notifications.
Read a book. I would recommend a "fun" book for yourself. My doctor tells me to limit my self-development books because I try to self-fix myself.
Minimalism Lifestyle. Live with less. This is something that I am currently working on. My goal is to be able to fit all my belongings in a van.
Do something that has been on your to-do list that you have been avoiding.
Be where your feet are. I learned this from my life coach. It's about being more present in my life. It's about being completely there wherever your feet are. Don't think about the past or the future. Be in the moment.
Seek support. I use to avoid this one completely. I felt like I didn't need help and that my problems aren't that bad. Other people have it worst. But this is far from the truth. We all have troubles and they are all important. Get the help you need.
What from this list have you done? What do you do to create more happiness and balance in your life?