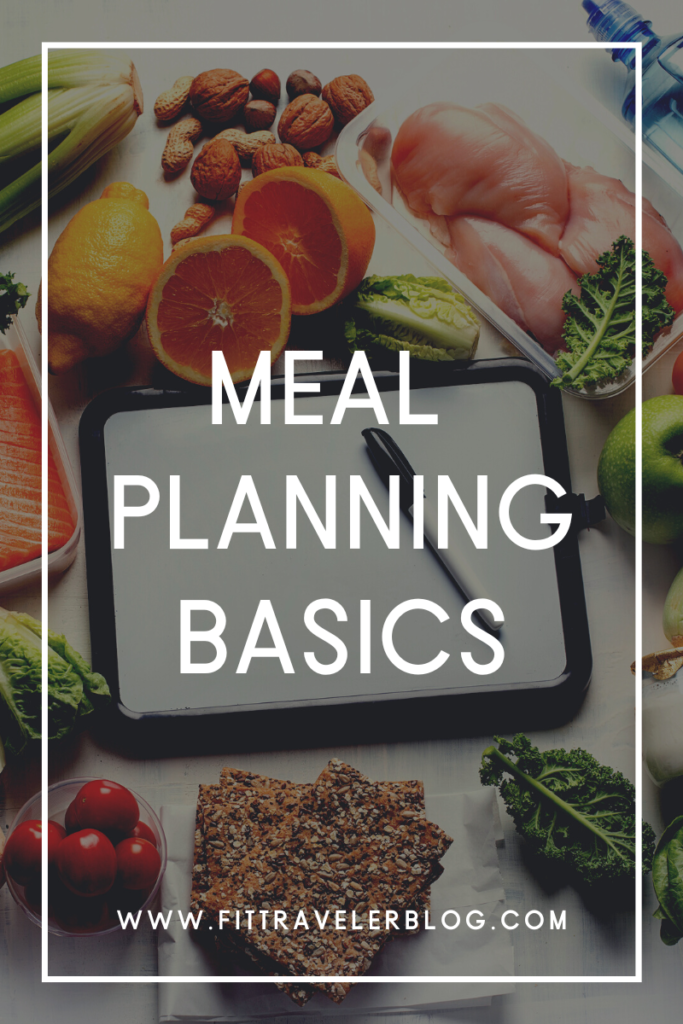 It is NO secret that I don't like to cook. If I had a choice (and unlimited money) I would choose to go out to eat. I can't really explain why I don't like to cook. I am also not the best at choosing the best foods for me when I do go out to eat. I have been fairly lucky to have high metabolism but that's not going to last forever.
I am not a go with the flow type of gal. I like my routines and plans, and planning what I eat is no different. It's like the saying goes, "If you fail to plan, you plan to fail." This is me 100% when it comes to meal planning. If I don't have a plan, one of two things happen: I either won't eat or I'll go out to eat. Either is a good option normally, but working out and training for a half marathon it's definitely not a good idea.
Meal Planning has been something I have worked on for several years. It has been a trial and error on what works for me. I feel like I have finally found something that works for me. I was recently out for dinner and working on my meal plan. The bartender asked what I was working on and I told her. She told me that her and her sister have been trying to figure something out for them. She thought my meal planning strategy was pretty nice. So I'm going to share with you my secret.
The Beginning
My meal planning is done on a sheet of paper. I put the day and the date along the left side of the paper to the left of the pink line. During baseball season, I put a circle around the days that my husband is gone so I remember I am by myself. Then I put a square around paydays because I try to get food to last 2-4 weeks. On the top line I write breakfast, snack 1, lunch, snack 2, and dinner. This is the outline that I have used for years. Its works because it has all meals laid out for me. I try to eat every 3 hours that I am awake. This helps keep your metabolism going and helps with workouts.
Snacks
My snacks stay the same every month or until I get sick of eating it. For the longest time, my morning snack was apple sauce. Before that it was string cheese. I pretty much eat the same thing until I can't anymore. Then I move on to the next thing. A tip for snacks is to be something that is already prepackaged or that can be packaged into smaller grab to go bags. I have learned for that if it's packaged or broken down into smaller bags it will go bad. if they have to be broken down into smaller bags, it's something that I do right when I get home.
Planning the snacks comes down to knowing your own strengths and weakness. I have learned over time things that I need to do, but these might not apply to you. If something isn't working for you, move on from it. Try it something else. What works for me may not work for you and that's ok. I know I stuck with things longer than I should because it was the "trendy" or "popular" thing.
My morning snack is usually something small and light. Some examples are apple slices, apple sauce, banana, string cheese, hardboiled eggs, teddy grahams and yogurt. The afternoon snack is usually something on the sweeter or savory side. We all get that mid afternoon slump and instead of grabbing another pop I grab for grapes and cheese, carrots and ranch, celery and peanut butter, cucumbers or apple slices.
Breakfast
I have to eat breakfast everyday. I know some people who it bothers them to eat breakfast. There are plenty of studies that show breakfast is the most important meal of the day. Breakfast and lunches are very similar for me as in I can eat the same thing over and over. Right now, I am obsessed with Smithfield Power bites. They have a variety but I typically grab the meat lovers. Another breakfast favorite is peanut butter toast. If I am feeling fancy, I'll put honey with it. Being back in the midwest, sometimes I splurge and grab breakfast pizza. But I ate a LOT of it when I first moved back so I'm kinda on a break with pizza.
Lunches
If I am being COMPLETELY HONEST, I could eat the same thing for lunch forever. It's rice and shredded chicken with soy sauce. I never get of it and it's so good. I probably like it because it's one of the few things I know how to make. I meal prep my lunches for the week. I eat the same thing all week, and do the prepping on Sunday. This works great for me because I can grab it, stick it in the microwave and enjoy my lunch. I don't have waste part of my lunch making my meal. My favorite is using reusable microwaveable containers that I got from amazon. I also use sauce containers for the soy sauce. It makes everything super easy for me – which I love.
Nutrition wise I try to have all my meals at 50% carbs, 30% protein, and 20% fat. This is a typcial breakdown for any adult. If you are wanting to lose weight decrease the carbs and increase the fat percentage. I also use these percentages loosely. I have a nutrition certification through Precision Nutrition and they use your hand as measuring cups. Protein is roughly the size of your palm. The fist is serving size for vegetables. Carbs is a cupped hand, and fat is the size of your thumb. I have a plan that I designed for myself based on my fitness goals and lifestyle. (If you are interested, I do sell this service feel free to message me and we can talk.)
Dinners
Unlike lunch, I can not eat the same thing for dinner every night. This is where failing to plan, I plan to fail comes in to effect. If I don't have something written down, I will either not eat or snack or go grab something. This has been the toughest trial and error for me. I finally feel like I created something that works for me and I am excited about. I actually might start cooking more dinners. (Having an air fryer has been life changing for me.)
The first thing when planning dinners is planning the main dish or the protein. Each day of the week is assigned a protein. Monday is seafood. Tuesday is beef. Wednesday is chicken. Thursday is pork. Friday is trivia or going out. Saturday is varies between chicken or pork. Sunday is usually steak. The sides vary between mashed potatoes, corn, green beans, salad. Sides are too hard to pick and most are pretty easy to make.
Overview
This is pretty much how I meal plan. I plan for the month out or how ever many days fit on the sheet of paper. On the left side going down is the day and date of the week. On the top line is all the meals I eat. I start with my snacks. Then move to breakfast. Then lunches which is usually the same thing all week made on Sunday. Dinners are planned last using my code. Monday is seafood. Tuesday is beef. Wednesday is chicken. Thursday is pork. Friday is trivia or going out. Saturday is varies between chicken or pork. Sunday is usually steak.