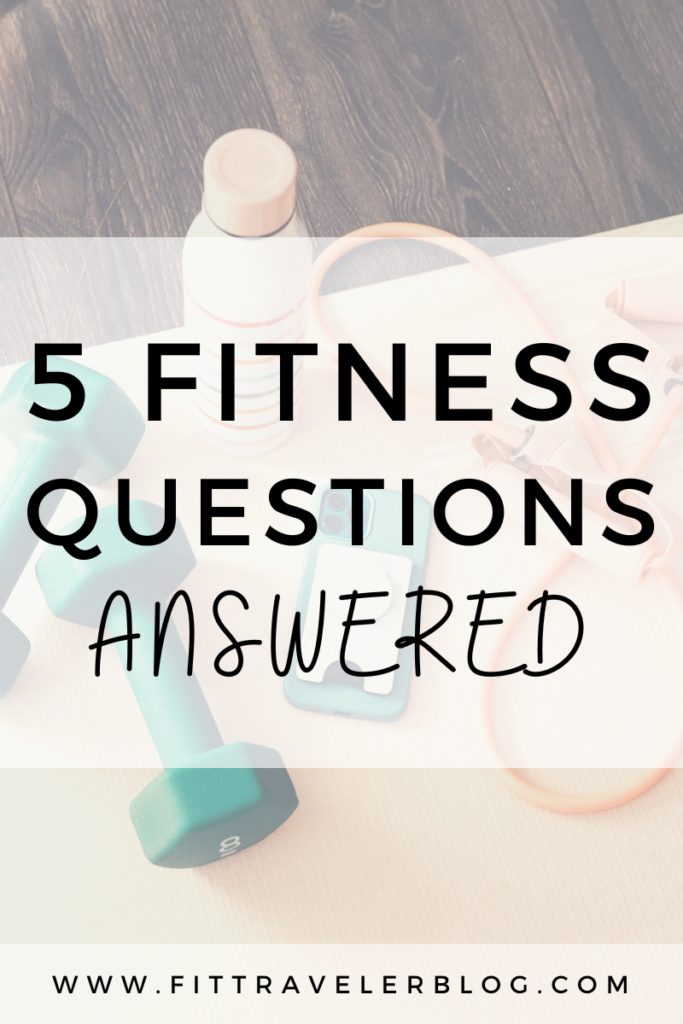 Here's to another 5 fitness questions that I have been asked recently. I love to learn and then share with others. When I became a personal trainer it was one of the toughest things I have ever done because I had ZERO background in fitness, nutrition, wellness, etc. If you knew me growing up, I was a skinny kid with horrible eating habits. I lived off Mountain Dew and Cheetos. (I'm not joking.) But I decided I would be a sponge and soak everything up. Over the years, I learned not everyone is giving out good information. I started looking into other trainers' certification and backgrounds and values.
Fitness for me is about moving your body every day. It's about making small and consistent steps toward your goals. It's a whole lifestyle change not just one aspect of your life. I started following and listening to others who shared my values and beliefs. I also tell people fitness and law are a lot alike. You can find one person who says foam rolling and mobility training is useless, and another who thinks that's all that matters. it's all about doing your research or finding the people you trust. it's also why I do these 5 questions because I get to share what I have learned or read or researched and I want to give you the information and let you make an informed decision on what's best for you. It's also my WHY behind this blog. I want to give you unbiased information based on what I have read, give it to you in bite-size, and be easy to understand. Sometimes people make things harder than they need to.
When's the Best Time to Workout
Everyone is different. I know I NEED to work out in the morning. It needs to be the first thing I do in the morning or else I will let everything else take over my day. In the past, I thought if you didn't work out early in the morning you were doing it all wrong. But I have learned everyone is different and not everything is a morning person. Some people need to work out at the end of the day.
There is no right or wrong time to work out. I would recommend trying to work out at different parts of the day and see how it feels. I have some clients who work out right after work and keep their gym bags in the passenger seat as a visual reminder to themselves.
When to Switch Up Programs or Workouts
From my research, it's about 6 weeks of consistency then switching up the workout. My clients have specialized workouts based on their goals and lifestyle. Every 6 weeks I switch up their workouts slightly based on their feedback and what they have coming in their lives.
I would recommend not switching up your workouts every time you work out because you're giving up having that consistency to show you are getting stronger. Yes, you are constantly changing which is good so you don't plateau but you are shorting yourself in other places. I believe by having a similar workout for a period of time you are able to see that you are getting stronger, you're able to get deeper in your squats, and so much more.
Rest Days/Active Recovery
"I don't want to take any days off from the gym" is something I used to get told to me. I have 2 responses to this statement. The first one I do is compare the gym to their job. You need a day off from your job, right? You don't work 7 days a week. (Most people say no.) It's the same thing with your body. Your body is not meant to be on the go ALL THE TIME. It needs that rest and time to heal.
"What does my body need to heal from?" is usually the next thing they say. If you are lifting weights and sometimes lifting really heavy you are creating little tears in your muscle. Think of your muscles like a rubber band if you stretch that rubber band enough it's going to break. Same with the muscles-give them time to recover.
Instead of coming to the gym and working out do something else that involves moving your body. If it's nice, go for a hike or go skiing. If you always wanted to try hot yoga, go to a studio and give it a shot. You are still moving your body but it's in a different way than what your mind and body are expecting. The next time you are in the gym you'll be able to lift more weight or do more reps or run faster or longer. Everything works together.
How Many Reps Should I Do?
This is a LOADED question because it depends on your goals BUT typically 3 rounds of 12-15 repetitions will give you a good workout. A general workout plan for me that I write for people is 2 exercises focusing on each body part – chest, back, arms, shoulders, abs, legs, and glute. I personally like doing total body as much as possible because doing arms one day and then legs the next is too much for me. I have also noticed in my client's total body works best in most lifestyles.
How Do You See Progress?
I wrote a whole blog post about this because most of the time we can't see the changes in ourselves. I speak from experience on this because when I was at my heaviest and then lost weight I would see grab clothes in my old weight. When I looked in the mirror that's the person I still saw. It wasn't until I tried those clothes on that they didn't fit that I would realize I had lost weight. There are so many ways to see progress made. I recommend finding one that works for you and sticking with it.
I hope these help you on your fitness journey. Please reach out to me anytime with any questions. I am happy to answer any questions you have about fitness, wellness, or nutrition, or if you just want to chat. I am here for you.
Check out the other 5 Fitness Questions Answered: