When you first start working out it can be quite intimating. Many times it's not knowing where to start. There is so much information out there. It can be quite overwhelming, and most people leave or quit before even starting. When I was studying to become a personal trainer, I learned so much information and a lot of times it was contradicting to what I was experiencing working at gym and seeing from other trainers. When it comes to workouts, if you do one exercise from each category you'll be working out every muscle group.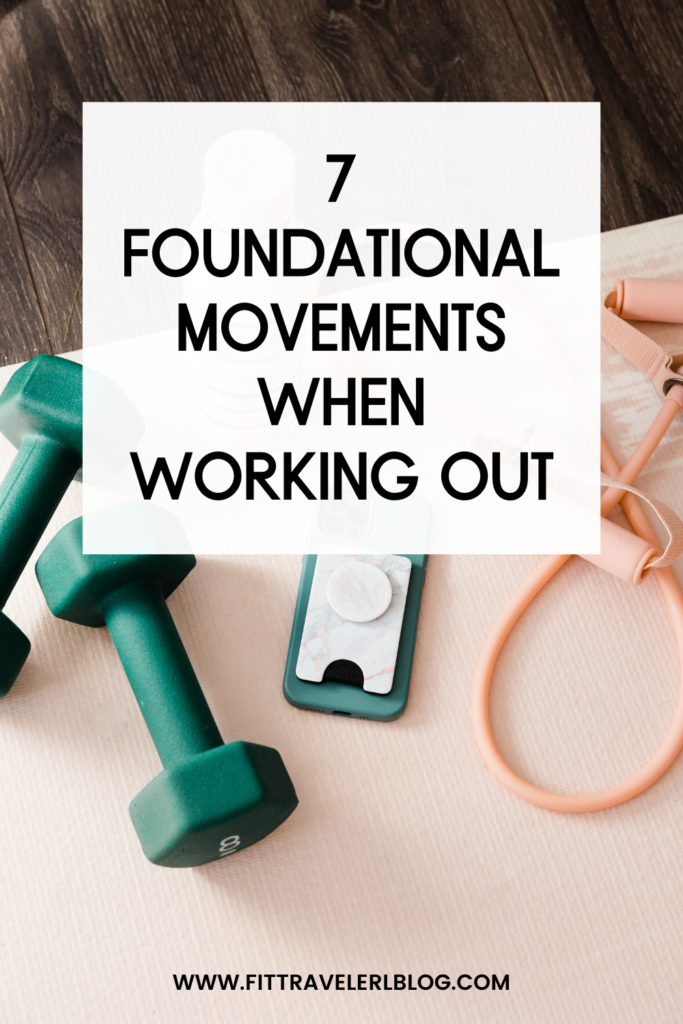 There are 7 basic movements to incorporate in your workout:
Pull
Push
Squat/Lunge
Hinge
Carry
Plank
Rotate
Push Exercises
A push exercise is working the muscle as it is being pushed away from your body. Everyday activities would be pushing the door away from you, pushing the plug into socket, closing a window, pushing on the brake, or pushing away from table.
Primary Muscles Groups: Chest, Triceps, Quadriceps, Calves, and Shoulders
Example of Push Exercises: Pushups, Chest Press, Chest Fly, Lateral Raises, Skull Crushers, and Shoulder Press
Pull Exercises
Pull exercises are when you are moving the weight towards the body. Everyday pull activities would be pulling open a door, picking up a drink, grabbing a bag, and removing the plug. The ultimate bodyweight pull exercise is a pull-up.
Primary Muscle Groups: Back, Biceps, Hamstrings, Obliques, and Trapezius.
Example of Pull Exercises: Pullups, Back Rows, Lat Pulls, Bicep Curls
Squat/Lunge
*Some people have these as 2 items and some consider them one.
Squat/Lunge Exercises usually focuses primarily on the lower body. I recommend starting with body-weight and work towards adding resistance bands, barbell, free-weights and plyometrics to increase difficulty.
Primary Muscle Groups: Quadriceps, Hamstrings, Abdominal and Glutes.
Examples of Squats: Bodyweight Squat (There are a variety of types of squats, but for the moment let's focus on a tradition basic squats)
Examples of Lunges: Bodyweight Lunge. Lunges are also more difficult or less stable than squats in relation to foot location. One foot can be in front or behind the other. (Like the squat there are lot of variety, but let's focus on mastering bodyweight forward/backward and side lunges.)
Hinge
Hinge exercises are when you push your butt back and lean your torso forward in neutral spine. These exercises typically target the posterior chain (your backside). The hinge is the most difficult to master, but once you do you'll see massive change in your workout. The hardest things about hinge typically people want to pull with rounded shoulders. Hinge is about keeping your back in a neutral spine with your shoulders back. It's using force from pushing your feet into the ground and coming up to a standing stance.
Primary Muscle Groups Include: Lower Back, Glute, Hamstrings.
Exercise of Hip Hinge: Wall Hip Hinge, Deadlift, Sumo Squats
Tip: When first starting out, I would do these in the mirror or video yourself. Make sure you are keeping your back flat, and avoid rounding your shoulders. Start small and work your way getting lower. When I'm working out with clients I start just touching their knees, and as we continue we'll get lower and lower.
Carry
*Some call it gait or walking while others have carry. To me either one is fine because it's movement. As a trainer, I care more that people are moving their bodies.
Carry Exercises are anything moving weights from one area to another. It can be kettlebells, free-weights or barbells. I personally love carry exercises the most because it's a total body workout. It's hitting nearly every muscle group.
Primary Muscle Groups: Deltoids, Obliques, Calves, Glutes, Hip Flexors, Quadriceps, Shoulders, Bicep, Tricep, Forearms, Trapezius
Exercies of Carry: One Arm Farmers Carry, Loaded Carry
Plank
A plank is holding your body up with either your forearms or hand and on your feet or knees touching the ground.
Primary Muscle Groups: Abs AND your whole body if you are doing it right.
Exercise: There are so many types of planks, but let's start with the basic forearm plank.
Rotate
Rotate is creating horizontal movement twisting at the core. It is different than the other exercises because of the movement. The others are either forward, backwards, or side to side. Day to day movement would be throwing a ball or changing directions.
Primary Muscle Group: Obliques
Exercises for Rotational Movement: Russian Twists, Med Ball Rotational Throw